The family vineyards are located in more than 15 different "crus" among the most prestigious (Aÿ, Mareuil-sur-Aÿ, Hautvillers, Mutigny, Avenay val d'or, Verzy, Chouilly, Oiry…). This diversity enables us to provide our cuvées with the 3 grape varieties allowed in Champagne – pinot noir, chardonnay and pinot meunier – to ensure the characteristic blend of our House.
Our cuvées are produced and aged in our cellars, located in Mareuil-sur-Aÿ, which are a mixture of tradition and modernity.
Our wines, elaborated according to ancestral rules, are the result of an exceptional alliance between land and men, between a "terroir" and a know-how.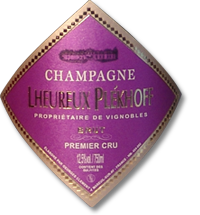 Champagne from the family vineyard is available for sale on site